Microsoft Surface team tips future charging peripherals on reddit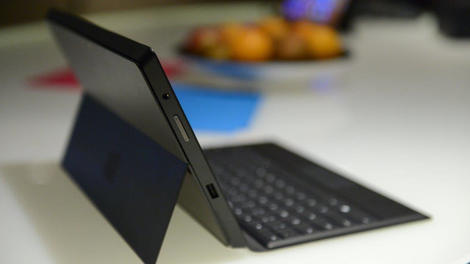 Microsoft revealed during an online Q&A on Wednesday that new peripherals are in the works for Surface tablets, hinting that charging accessories are on the horizon.
Microsoft General Manager Panos Panay led the ask-me-anything session on reddit, the self-proclaimed "front page of the internet," with the Surface Pro engineering team on hand to answer questions as well.
Panay responded to a question about new connectors found on the Surface Pro's bottom dock in first person, writing, "Wow - I'm pumped you caught that!"
"We haven't announced what they are for but they aren't an accident!" he continued. "At launch we talked about the 'accessory spine' and hinted at future peripherals that can click in and do more. Those connectors look like can [sic] carry more current than the pogo pins, don't they?"
Can you repeat that?
That's an interesting tip, but it's pretty vague. Luckily the Surface team revealed more hints in response to another question about the possibility of an external battery or a charging keyboard cover:
"That would require extending the design of the accessory spine to include some way to transfer higher current between the peripheral and the main battery," wrote the reddit account named SurfaceTeam. "Which we did…"
Wel l that's pretty blatant. So when can we expect an official Microsoft charging dock for the Surface Pro?
Hold your horses - the Surface team ruled that out. "We don't have a dock in the plans, but there are USB3.0HUBS that offer viable solutions," they wrote.
To reiterate
So while Microsoft apparently does not have a new charging dock in the works for the Surface, other types of tablet-charging peripherals are likely on the docket.
Charging keyboard covers and portable external batteries were mentioned by reddit users, and the Surface team didn't rule those out specifically.
But they did manage to remain admirably vague despite confirming that the Surface Pro's enhanced bottom connector is capable of transmitting more current than the Surface RT's could.
So far no Surface peripherals take advantage of that, but we're guessing that's going to change soon.
TechRadar has reached out to Microsoft for further clarification of the statements made on reddit, but so far we haven't heard back.